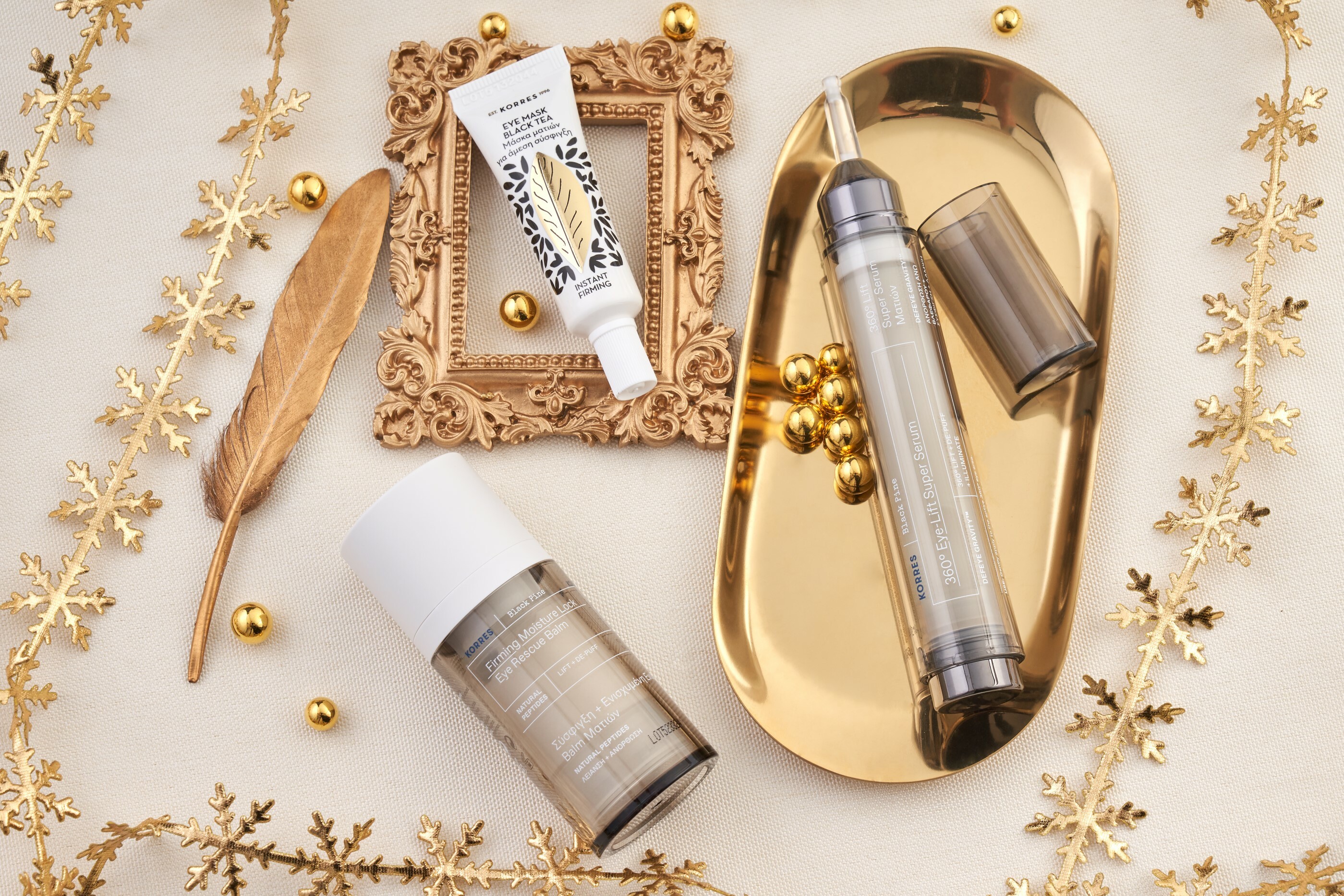 The set includes:
Korres Black Pine 360 Eye-Lift Super Eye Serum 15mlx1
KorresBlack Pine 4D Firming Moisture Lock Eye Rescue Balm 15ml x1
Korres Black Tea Lifting Eye Mask 6ml x1
Korres Black Pine 360 Eye-Lift Super Eye Serum 15ml
l   To provide a toning effect and supports a firmer360 ° eye area
l   To immediate lifting of the eyelids and 360°tightening of the entire eye area.
l   reduces the appearance of wrinkles, eye bag and,dark circles
How to use:
1. After dailycleansing, pump out 1 drop and apply on the upper eyelid towards the brow line
2. Then start fromthe outer corner, moving inwards, then up and around the brow bone with gentlemassage
Korres Black Pine 4D Firming Moisture Lock EyeRescue Balm 15ml
l   helps to hydrate,reduce puffiness and smooth fine lines and wrinkles around the eyes
l   Enriched with apotent blend of natural peptides, it brightens dark circles and encourages skinto feel more elastic and supple
l   Ideal for usemorning, and or evening to brighten, awaken and reveal more youthful skin
l   90.8% naturalcontent
How to use
l  Apply to clean, dry skin around the eyes
l  Gently tap into the skin using fingertips
l  Can be used morning and/or evening
Korres Black TeaLifting Eye Mask 6ml
l  A creamy eye mask for instant firming
l  To improve overall skin quality byenhancing skin smoothness, improves firming.
How to use:
Apply a rich layer on dry skin under the eyes, leave for10-15 minutes and rinse off thoroughly. Use 1-2 times weekly or as often asneeded
Made in Greece
Suitable for all skin types (including sensitiveskin)
Dermatologically tested. May contain traces ofwheat/nuts. Suitable for vegetarians and vegans. Recyclable packaging. Crueltyfree.