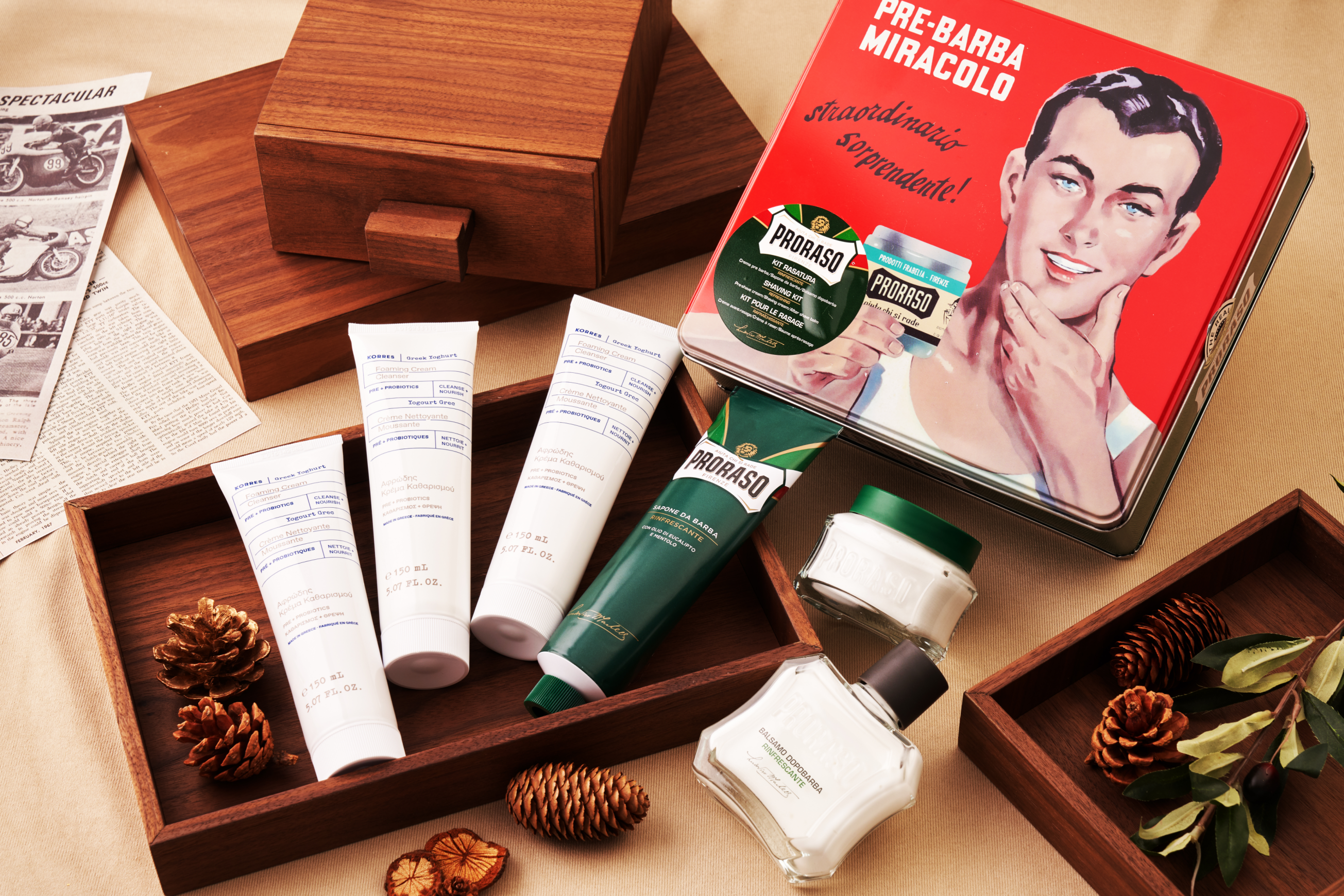 The set includes:
Korres Greek Yoghurt Foaming Cream Cleanser 150ml x3
Proraso Vintage Selection Tin (Refreshing)x1
Korres Greek Yoghurt FoamingCream Cleanser 150ml
l  Cleaning the skingently and effectively
l  Removing impuritiesand makeup without any redness or irritation
l  Deliver an almostinstant dose of pre and probiotics to nourish the skin
l  All skin types
l  85% natural content
How To Use:
1. Take a pack of Foaming CreamCleanser into palm
2. Add about half teaspoon of water
3. Use both hands to rub until foaming (or use a cleansing brush to foam)
4. Gently massage on the face
5. Finally, rinse with water.
Proraso Vintage Selection Tin
The set includes:
Pre-Shaving Cream withEucalyptus & Menthol 100ml
l  Fortified with Eucalyptus Oil, Menthol andGlycerin, the protective formula conditions
l  Moisturises and tones skin and facial hair inpreparation for a close and comfortable shave
l  To help calm and relieve the feeling of irritation
How to use:
Dampen your face and massage in circular movements. Do not rinse. Shavenormally with soap or a shaving cream.
Shaving Cream Tube with Eucalyptus& Menthol 150ml
l  A protective and refreshing shaving cream enrichedwith Eucalyptus and Coconut Oils, Glycerin and Lanolin
l  To aid a close and comfortable shave.
l  Expertly moisturises and conditions to promote easyhair removal.
How to use:
Massage onto the face using circular movements. In a few moments, the soapturns into a creamy and compact lather.
After Shave Lotion withEucalyptus & Menthol 100ml
l  A refreshing, after shave lotion formulated withMenthol, Witch Hazel and Allantoin
l 
 To help calm and relieve skin post-shave
l  Expertly moisturises and invigorates to help recoverskin after hair removal
How to use:
Apply to your face massaging gently to facilitate absorption
Suitable for all skin types (including sensitiveskin)
Dermatologically tested. May contain traces ofwheat/nuts. Suitable for vegetarians and vegans. Recyclable packaging. Crueltyfree