Description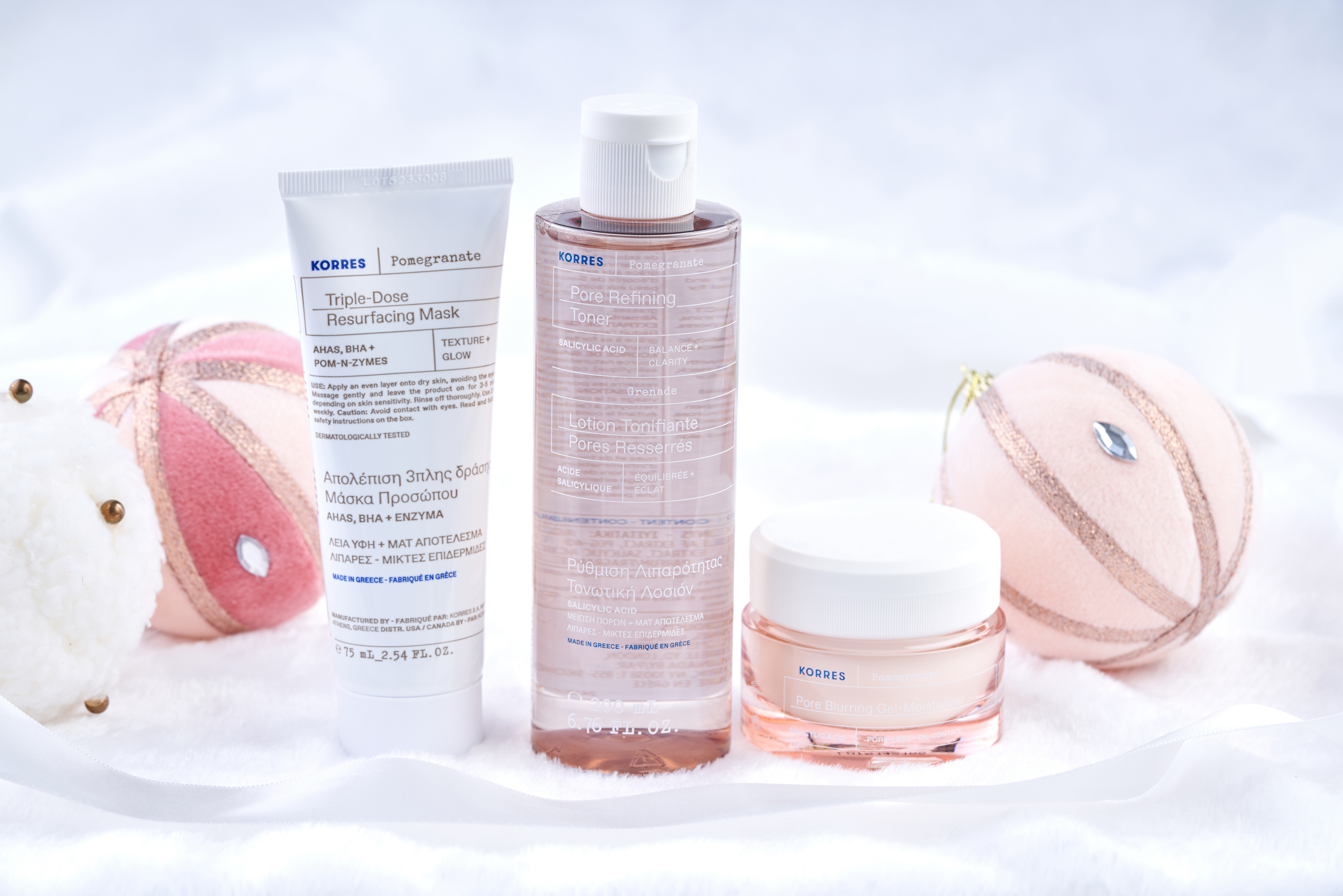 The set includes:
Pomegranate PoreBlurring Gel Moisturizer 40ml x1
PomegranatePore Refining Toner 200ml x1
PomegranateTriple-Dose Resurfacing Mask AHAs 75ml x1
KORRES Pomegranate Pore Blurring GelMoisturizer 40ml
l  A blend of 15% pomegranate thatdelivers immediate and lasting hydration while balancing oily or combination skin.
l  To reduce the apperanace of poresby Pomegranate extract, BHAs (salicylic acid) and Willowherb extract
l  91.2% Natural ingredients
How To Use:
- After cleansing, apply to the face and neck, avoiding the eye area.
- May be used morning and night.
KORRES Pomegranate Pore Refining Toner 200ml
l  Clarify and refine the skin
l  To minimise the appearance ofpores
l  White Willow Bark extract: Anatural source of BHA that helps reducing excess oil and refining pores.
l  99.4 %Natural Content
How to use:
1.     Apply to clean, dry skin and a cottonpad
2.     Sweep over the face and neck,avoiding the eye area
3.     Can be used morning and/orevening
KORRESPomegranate Triple-Dose Resurfacing Mask AHAs 75ml
l

  

Toprovide three unique exfoliators
l

  

27.5%AHAs and BHAs buff away at dead skin cells and unclog pores, leaving behind asupplier, more radiant complexion
l

  

Tocombat excess oil and unify the skin, promoting a flawless-looking, air-brushedeffect
l

  

88.3%Natural Content
How to use:
Apply an evenlayer onto dry skin, avoiding the eye area. Massage gently and leave on for 3-5minutes depending on skin sensitivity. Rinse off thoroughly. Use 3 timesweekly.
Made in Greece
Suitable for all skin types (including sensitiveskin)
Dermatologically tested. May contain traces ofwheat/nuts. Suitable for vegetarians and vegans. Recyclable packaging. Crueltyfree.